A pop chorus group called "The Lettermen" debuted at Las Vegas in 1958.
Theirs is a gentle harmony that is enjoyed by anyone who listens.
In 1961, the EP recording on the right came out, and was a big hit. This is their debut single from Capitol Records. Craig "Big-T" Thompson, jazz singer from Dallas, found this recently and got it for Shakushigakudo Master. I received it in May 2005.
It brought back so many memories that I had to start writing this page.
The guy on the right is Tony Butala who started this group. Just about all of the leads of the songs by The Lettermen are sung by him.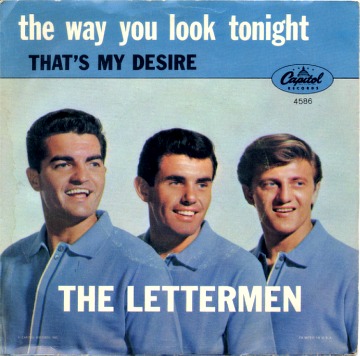 The Lettermen (original group)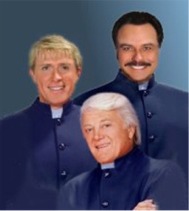 The Lettermen (current group)
The Lettermen are still around and still sing in the same style. Donovan Tea (left) joined the group in 1984. Mark Preston (upper right) came back to the lettermen recently after 20 years.
The once young and good lookin' Tony bro has aged some, but is still going strong, leading the youngsters. I shouldn't say "aged", since he is only a couple of months senior to Shakushigakudo Master.
Even in the US, where vocal groups often top the hit charts, despite the fact that there are many well known groups, their social and economic standings are not always good nor secure.
It is the solo singers who are pampered and valued.